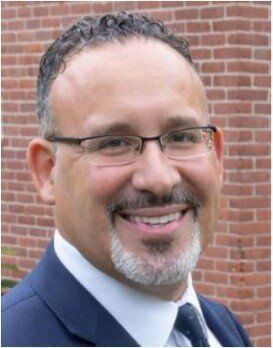 So, who is this fellow on tap to replace Betsy DeVos as the 12th U.S. Secretary of Education, jumping ahead of both NEA president Lily Eskelsen Garcia and AFT president Randi Weingarten?
Well, for starters, he was an English Language Learner when a student himself, and …
As of August 2019, he's Connecticut's first Latino commissioner of education.
He spent 10 years as an elementary school teacher at Meriden Public Schools, where he'd once been a student. For the next 10 years, he served as its principal.
In 2013, he took over as Meriden's superintendent for teaching and learning.
About the pandemic and education, Cardona said in a recent speech: "I know just how challenging this year has been for students, educators, and parents… It has taxed our teachers, our leaders, our school professionals and staff who already pour so much of themselves into their work. It has taxed families struggling to adapt to new routines as they balance the stress, pain, and loss this year has inflicted. It has taxed young adults trying to chase their dreams to advance their education beyond high school and carve out their place in the economy of tomorrow. It has stolen time from our children's who have lost something sacred and irreplaceable this year despite the heroic efforts of so many of our nation's educators…"
Along the way, he's also said:
"We all know remote learning will never replace classroom experience. We also know that the health and safety of our students, staff, and their families must be the primary consideration when making decisions about school operations. The two are not mutually exclusive."
"Charter schools provide choice for parents that are seeking choice, so I think it's a viable option but [neighborhood schools] that's going to be the core work that not only myself but the people behind me in the agency that I represent will have while I'm commissioner."
"If we provide safe in-person options for students, whenever possible, we can ensure we are doing everything in our control to level the educational playing field and reduce gaps in opportunities for our students. If we can do it safely, this is what we owe to them. It has been made apparent through frequent communication from health experts that our schools have consistently been among the best implementers of mitigation strategies and that contact tracing patterns show that there is not widespread transmission in schools."
"Our success as a state will be dependent upon how we support students who are learning English as a second language."
"The fact is that more inclusive, culturally relevant content in classrooms leads to greater student engagement and better outcomes for all."
"State tests are the most accurate guideposts to our promise of equity for ALL."
"We have a lot of students sitting in our high schools today who need hands-on experience, who want to build things, who want to develop things, who want to manufacture, who want to go into IT, go into business. And oftentimes, we have students who don't take those opportunities because they're going to be less likely to be looked at by colleges."
About the incoming ed secretary, said Evelyn Robles-Rivas, president of the Connecticut Association of Latino Administrators and Superintendents: "He is a great listener, an amazing team player, and he's always looking out for the best interest of students… He is always looking for the best solution. He would definitely make sure students are in a safe environment, but he will also make sure schools open."
Like what you're hearing so far or think we're jumping from the DeVos frypan and straight into the fire? Would love to know your thoughts.
With my thanks and good wishes for 2021, Carol